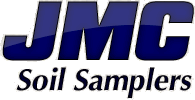 JMC Soil Samplers
1992 Hunter Avenue, Newton, 50208, Iowa, United States
Phone: 641-792-8285
Fax: 641-792-1361
Email: jmcsoil@jmcsoil.com
---
URL: http://www.jmcsoil.com/Liners-and-Spacers-ESP-Plus-orderby_0-p-1-c-265.html
---
Liners and Spacers (ESP Plus)
Replacement liners for JMC Environmentalist's Sub-Soil PLUS Probes are available in a clear, PETG Copolyester plastic version only.
cost less.
will flex so that unloading a sample is easier.
may be cut with a carpet knife to unload saturated clay samples.
also may be cut to shorter lengths as desired.
Spacers allow you to use shorter liners in your sampler.
For example, to take 12 inch samples with a 36 inch sampling tube, you will need one 12 inch liner and one 24 inch spacer.
---
PETG Copolyester Liners with Vinyl Caps
3 Products