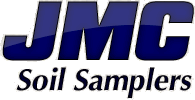 JMC Soil Samplers
1992 Hunter Avenue, Newton, 50208, Iowa, United States
Phone: 641-792-8285
Fax: 641-792-1361
Email: jmcsoil@jmcsoil.com
---
URL: http://www.jmcsoil.com/PN039-JMC-Collapsible-Soil-Sampler-with-Screw-Auger-12-inch-We-p-16392.html
---
PN039 JMC Collapsible Soil Sampler with Screw Auger & 12 inch Wet Sampling Tube
---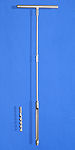 ---
Description
---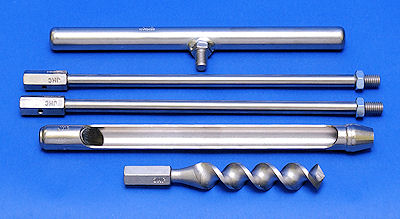 Pictured Above: The disassembled JMC Collapsible Soil Sampler with Screw Auger.
Don't let the term "collapsible" fool you. This sturdy system pulls accurate samples in a variety of soils. The fact that it can be disassembled is just an added perk.
Very compact! Disassembled system measures 13 x 3 x 2 inches.
Self-sharpening, hardened cutting tip lasts 8 times longer than common replaceable tips.
12 inch Wet Sampling Tube works best in soft moist soils.
Sample Diameter is 0.688 inches.
JMC Screw Auger penetrates more difficult ground conditions and makes a one inch hole to allow sampling tube to pass through.
All metal parts nickel-plated to protect against rust and wear.
Handle and extensions will fit our other sampling tubes.
(To order see Related Products List below.)
Additional Extensions are available.
(To order see Related Products List below.)
Optional Special Cleaner available for easier sample removal.
This System Includes:
1 - JMC Collapsible Sampler Handgrip
2 - JMC 13 inch Rod Extensions
1 - JMC 12 inch Wet Sampling Tube
1 - JMC Screw Auger