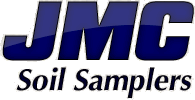 JMC Soil Samplers
1992 Hunter Avenue, Newton, 50208, Iowa, United States
Phone: 641-792-8285
Fax: 641-792-1361
Email: jmcsoil@jmcsoil.com
---
URL: http://www.jmcsoil.com/PN045-Pushrod-for-JMC-Backsaver-Handle-p-16437.html
---
PN045 Pushrod for JMC Backsaver Handle
---

---
Description
---
Should you happen to strip the threads or bend the rod in your JMC Backsaver Handle, you can replace it yourself very easily.
Remove the roll pin found at the top of the rod with a small punch and hammer.
Slide the rod out of the handle.
Slide in the replacement rod.
Align the holes at the top of the rod and replace the roll pin.
For your convenience, we include an extra rollpin with your replacement pushrod.