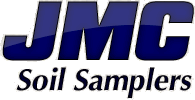 JMC Soil Samplers
1992 Hunter Avenue, Newton, 50208, Iowa, United States
Phone: 641-792-8285
Fax: 641-792-1361
Email: jmcsoil@jmcsoil.com
---
URL: http://www.jmcsoil.com/PN066-JMC-3-inch-Quick-Connect-Professional-Sand-Auger-p-16275.html
---
PN066 JMC 3 inch Quick Connect, Professional Sand Auger
---

---
Description
---
Our JMC Quick Connect Professional Augers can sample to 30 feet in most soils. Each auger's precisely angled cutting blades pull the auger into the soil approximately 1 inch with every revolution of the handgrip. These blades cut a hole slightly larger than the auger barrel for easy retraction of the auger and sample. Sample removes easily from auger - just invert auger and thump handgrip on the ground.

3 inch Augers cut 3.25 inch diameter holes.
Auger body laser cut from 1/8" DOM steel tubing.
Nickel-plated to protect against rust and wear.
Heat treated cutting blades coated with hard-surfacing material for increased durability.
Augers fit all JMC Quick Connect Auger Handgrips and Extensions.
Special Note: If you want only one auger for a variety of sampling conditions, we recommend the JMC Quick Connect Clay Auger rather than the JMC Quick Connect General Purpose Auger. Contrary to its name, the clay auger is the most adaptable to the widest range of soil. conditions.