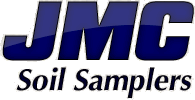 JMC Soil Samplers
1992 Hunter Avenue, Newton, 50208, Iowa, United States
Phone: 641-792-8285
Fax: 641-792-1361
Email: jmcsoil@jmcsoil.com
---
URL: http://www.jmcsoil.com/PN073BB1-JMC-2-Clay-Auger-with-Standard-Handgrip-p-16344.html
---
PN073(BB1) JMC 2" Clay Auger with Standard Handgrip
---

---
Description
---
| | |
| --- | --- |
| Pictured Above: Our JMC Standard Auger Handgrip | Pictured Above: Our JMC 2 inch Professional Clay Auger |
JMC Standard Auger Handgrip
Compatible with all threaded connection JMC Professional Augers and Extensions.
Heavy-Duty construction to withstand field abuse.
Nickel-Plated to protect against rust and wear.
Not designed to be used with a mallet.
JMC 2 inch Professional Clay Auger
Our JMC Professional Augers can sample to 30 feet in most soils. Each auger's precisely angled cutting blades pull the auger into the soil approximately 1 inch with every revolution of the handgrip. These blades cut a hole slightly larger than the auger barrel for easy retraction of the auger and sample. Remove the sample easily - just invert auger and thump handgrip on the ground.
2 inch Augers cut 2.25 inch diameter holes.
Auger body laser cut from 1/8" DOM steel tubing.
Nickel-plated to protect against rust and wear.
Heat treated cutting blades coated with hard-surfacing material for increased durability.
Augers fit all threaded connection JMC Auger Handgrips and JMC Auger Extensions
Note: Contrary to its name, the clay auger, and not our General Purpose Auger, is the most adaptable to the widest range of soil conditions.