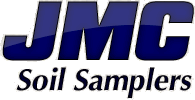 JMC Soil Samplers
1992 Hunter Avenue, Newton, 50208, Iowa, United States
Phone: 641-792-8285
Fax: 641-792-1361
Email: jmcsoil@jmcsoil.com
---
URL: http://www.jmcsoil.com/PN118-Standard-Case-for-Backsavers-or-45-inch-Extensions-p-16243.html
---
PN118 Standard Case for Backsavers or 45 inch Extensions
---

---
Description
---
A light duty case for keeping all your sampling equipment* together.
Lightweight, scuff-proof, high impact plastic exterior
Thick polyurethane foam lining
One size available: 49x16x5 inches
Can contain any of our products except the Backsaver N-3 and ESP handles
Fits in most vehicles but not recommended for air travel
Best suited for use by one or two individuals who can be counted on to take care of their equipment.
*This case can also be used to carry any of our sampling equipment except for the JMC Backsaver N-3 Handle and the JMC Environmentalist's Sub-Soil Probe.