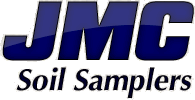 JMC Soil Samplers
1992 Hunter Avenue, Newton, 50208, Iowa, United States
Phone: 641-792-8285
Fax: 641-792-1361
Email: jmcsoil@jmcsoil.com
---
URL: http://www.jmcsoil.com/PN180-Vise-Grip-Chain-Wrench-p-16317.html
---
PN180 Vise-Grip Chain Wrench
---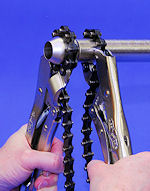 ---
Description
---
Remove cutting tips easily from JMC Environmentalist's Sub-Soil Probe (and Sub-Soil Probe Plus) Sampling tubes! Vise-Grip Chain Wrenches clamp onto any cylindrical object (up to 6 inches in diameter) without damaging the object's surface. In particular, one wrench can lock tightly around your sampling tube while another clamps onto your cutting tip. With two comfortable handgrips, you can unscrew even the most stubborn connection.
Prevent hand injuries.
Chain holds and locks around any shape or size
Turn screw to adjust pressure and fit work. Stays adjusted for repetitive use.
Guarded release trigger quickly unlocks and protects from accidental release.
Constructed of high-grade heat-treated alloy steel for maximum durability.