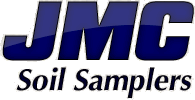 JMC Soil Samplers
1992 Hunter Avenue, Newton, 50208, Iowa, United States
Phone: 641-792-8285
Fax: 641-792-1361
Email: jmcsoil@jmcsoil.com
---
URL: http://www.jmcsoil.com/PN215-Bosch-11245-Rotary-Hammer-Case-w-Adapter-for-ESP-p-16177.html
---
PN215 Bosch 11245 Rotary Hammer & Case w/Adapter for ESP
---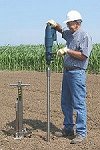 ---
Description
---
PN215 Bosch 11245 Rotary Hammer & Case w/Adapter for ESP
Replaces the ESP's manual sliding drop hammer.
Substantially reduces operator fatigue when sampling hard packed clay or frozen soils.
Drills through concrete (requires carbide bit option). Perfect for gaining access to samples under concrete pads!
Runs on standard AC voltage from a power outlet of 1600 watt generator.
Slips easily onto sampling tubes or extensions with the included proprietary adapter.
Hammer Features

SDS-max® bit system tool-free bit changes with automatic bit locking, dust protection and maximum impact energy transfer rate
Dual mode selector 2 modes of operation, rotary hammer and hammer only mode
Variable-speed dial for accurate bit starting and controlled chipping applications
Constant ResponseTM Circuitry Provides soft-start, maintains constant speed under load, provides overload protection
Service MinderTM light indicates when preventative maintenance is required
Vario-Lock TM positioning rotates and locks chisel into 12 different positions to optimize working angle
Padded rear handle absorbs shock for operator comfort
Integral clutch helps minimize torque reaction
360° Auxiliary handle provides a wide range of movement along with operator comfort
Double insulated, UL listed, complies to OSHA
Includes:Auxiliary Handle & Carrying Case

Hammer Specifications:

Amperage: 14.0 Amps
Impact Energy (ft. lbs.): 13.3 ft. lbs.
No Load RPM: 120-250
No Load BPM:1,100-2,500
Optimal Concrete Capacity Range:3/4 to 1-3/4 inches
Max. Hole Diameter in Concrete: 2 inches
Max. Hole Diameter in Concrete-Core Bit: 6 inches
Max. Hole Diameter in Concrete-Thru Hole Bit: 3-1/8inches
Max. Hole Diameter in Steel-Twist Drill Bit: 2 inches
Max. Hole Dia. - Core Bit: 6 inches
Length: 23.5 inches
Rating: 120 volts