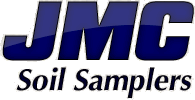 JMC Soil Samplers
1992 Hunter Avenue, Newton, 50208, Iowa, United States
Phone: 641-792-8285
Fax: 641-792-1361
Email: jmcsoil@jmcsoil.com
---
URL: http://www.jmcsoil.com/PN400ESP-JMC-2-by-6-inch-Concentric-Sampling-Tube-p-16387.html
---
PN400(ESP) JMC 2 by 6 inch Concentric Sampling Tube
---

---
Description
---
Our JMC Concentric Sampling Tube captures 2 inch diameter by 6 inch long samples in clear, PETG copolyester plastic liners from the first 6 inches of topsoil. A metal casing to remains in the ground as the sampling tube is withdrawn. Best of all, with an additional tube - like the one in our JMC Environmentalist's Sub-Soil Probe - samples can be pulled from below the metal casing through the 2 by 6 inch cavity with minimal cross strata contamination. Ultra-sensitive soil dissipation studies are a breeze with this equipment!
Tube isolates sample from surrounding soil while being lifted out of the ground.
Vinyl caps seal sample inside liner during transit to your lab.
Each tube comes with 15 plastic liners and 30 vinyl caps.
Extra liners available. See Bulk Discount Schedule.
(Order from Related Product list below.)
Casing can be retrieved from ground and reused.
Multiple Casings may be planted with the same Concentric Tube.
(Additional casings can be ordered from the Related Product list below.)
Note: Sampling tube can also be used without the casing. Use the short straight connector pin rather than the looped pull pin shown in the photo and 2 by 6 inch samples can be pulled from most any depth your probe handle and extensions can reach.
2 x 6 inch Concentric Sampling Tube includes:
Concentric Sampling Tube Body and Socket
Metal Casing
Pull Pin for connecting Body and Socket
(use for shallow sampling)
Straight Pin for connecting Body and Socket
(use for deeper sampling)
15 PETG Copolyester Liners
15 Red Vinyl Caps
15 Black Vinyl Caps
Adapter for JMC Environmentalist's Sub-Soil Probe