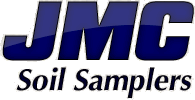 JMC Soil Samplers
1992 Hunter Avenue, Newton, 50208, Iowa, United States
Phone: 641-792-8285
Fax: 641-792-1361
Email: jmcsoil@jmcsoil.com
---
URL: http://www.jmcsoil.com/The-JMC-Backsaver-Handle-Soil-Sampling-Kit-p-16220.html
---
The JMC Backsaver Handle Soil Sampling Kit
---

---
Description
---
If you're not sure where to begin, don't worry. With the next few pages, we will help you build a perfect kit containing everything you need to start sampling immediately.

Each kit includes at least:

One JMC Backsaver Handle
Two JMC sampling tubes
A carrying case
A Special Cleaning Tool for removing samples and debris from sampling tubes.

We will also present several pieces of optional equipment for you to consider along with an explanation of why you might find the equipment useful. Click "Configure" to start.

Stop!
The "Configure" button is for building a complete sampling kit. If you just want a JMC Backsaver Handle and a sampling tube, please click here to exit the kit builder.