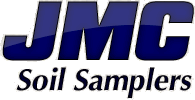 JMC Soil Samplers
1992 Hunter Avenue, Newton, 50208, Iowa, United States
Phone: 641-792-8285
Fax: 641-792-1361
Email: jmcsoil@jmcsoil.com
---
URL: http://www.jmcsoil.com/The-JMC-Environmentalists-Sub-Soil-Probe-PLUS-Sampling-System-p-16345.html
---
The JMC Environmentalist's Sub-Soil Probe PLUS Sampling System
---

---
Description
---
Presenting a marvelously advanced, yet simple to operate, all-in-one sampling system

The JMC Environmentalist's Sub-Soil Probe PLUS:
Punches through soil like a powered probe.
Pulls a 3 foot (or 4 foot) sample, 1.2 inches in diameter, in one plunge.
Captures every sample in a plastic (or stainless steel) liner.
Drives sampling tube with a 12.5 pound drop-hammer (or electric hammer).
Retrieves sampling tube with a foot-operated jack.
Can sample to depths of 21 feet in most soils by adding extensions and reentering the same hole.
Extremely portable. Can be carried most anywhere you can walk.
For more information and to build your own system, click the "configure" link below.