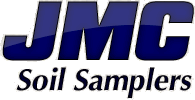 JMC Soil Samplers
1992 Hunter Avenue, Newton, 50208, Iowa, United States
Phone: 641-792-8285
Fax: 641-792-1361
Email: jmcsoil@jmcsoil.com
---
URL: http://www.jmcsoil.com/What-Equipment-Do-I-Need-sp-5.html
---
What Equipment Do I Need?
---
With so many equipment options to explore, you may find yourself confused about what equipment you need. Since we don't have salespeople available 24 hours a day, we created this simple questionaire (4 questions or less) to get you pointed in the right direction.
If you need more help, call us during business hours (Monday-Friday, 8AM-5PM Central Standard Time) or send us an email at jmcsoil@jmcsoil.com
Click Here to start the questionaire.