Our JMC 18 inch Zero Contamination Tube allows you to gather undisturbed soil samples encased in removeable PETG Copolyester liners.
Samples measure 0.8 inches in diameter by 18 inches long.
Tube isolates sample from surrounding soil while being lifted out of the ground.
Vinyl caps seal sample inside liner during transit to your lab.
Includes 15 PETG Copolyester liners, 15 black vinyl caps and 15 red vinyl caps.
Extra liners available in bulk. (See PN058 in Related Product list below.)
Pull pin can be used in place of straight pin for quicker "plow layer" sampling.
PN057 Includes:
18" Zero Contamination Sampling Tube Body and Socket
Straight Pin for connecting Body and Socket
Pull Pin (see picture at left) for connecting Body and Socket
15 PETG Copolyester Liners
15 Red Vinyl Caps
15 Black Vinyl Caps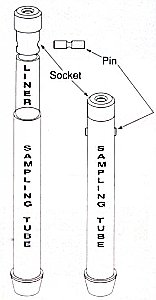 Pictured above: Loading a liner into the JMC Zero Contamination Sampling Tube.